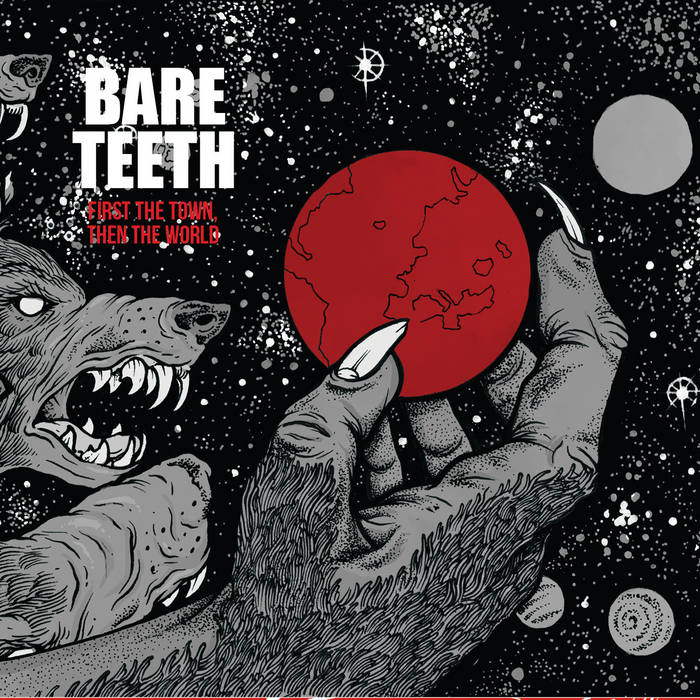 French Punk Rockers Bare Teeth,
are back with a brand new belting EP 'First the Town, Then the World'.

The EP kicks off with the title track 'First The Town, Then The World' which hits hard from the start with fast melodic instruments and vocals. They quickly demonstrate their talent and craftsmanship in this brilliant and textured punk offering. This leaves you excited to hear the rest of the EP...

'Behind The Wall' doesn't disappoint either, as it makes an even bigger impact with its great rhythms and infectious melodies, along with a hard-hitting guitar solo.

Latest single 'Parted Ways' keeps the momentum running high, especially being the fastest and most pounding track so far and again is groove ridden throughout. 'Always Rain' features some of the best and resonant tuneful guitar work and keeps things consistently powerful, especially with the use of fierce vocals in parts.

'Down' appropriately slows things down a tad for the intro at least, leaving you to bask in their glorious guitar work before firing up again. Whilst 'Tomorrow Starts Today' sees a heavier more hardcore influence shine through and helps add more variety. This is a perfect hard punk anthem for the pits.

'These Towns Need Guns' featuring Steve Rawles goes full hardcore with aggressive vocals mixed with clean ones for effect, and it works wonderfully. It is a good transition which still fits in with their style. A great surprise.

The band decided to show their softer calmer side by closing the EP with an acoustic version of earlier song 'Behind The Wall' which is a nice touch and this more stripped back number highlights the strong vocal harmonies and melodic guitar work more so.

This is not your standard punk band, this is dynamic, depthful and complex, with elements of thrash, pop, hardcore and punk combined, with all songs displaying their brilliant musicianship throughout. It is a delight to listen to and will surprise and impress the masses. They are setting out to take on 'the world' and this new EP is a great contribution to this.
The EP is now available on Digipack CDs, 12" vinyl and in all digital formats.
https://bareteethmusic.bandcamp.com/album/first-the-town-then-the-world
https://www.facebook.com/bareteeth/